I have one rule when it comes to games: If I have the choice between playing as male or female, I always choose the latter. Part of it is pure curiosity. Part of it is the fact that I already play games to get to experience worlds, events, and situations that I don't get to on a daily basis.  I don't play as females to "have something to look at." If a developer takes the time to give me the option, I enjoy getting to take them up on it and spend a few hours a day as the opposite sex. Call it weak, call it a gender crisis, or whatever else the internet will undoubtedly diagnosis it as. But these are 5 females I'll proudly play as during the next year.
Evie Frye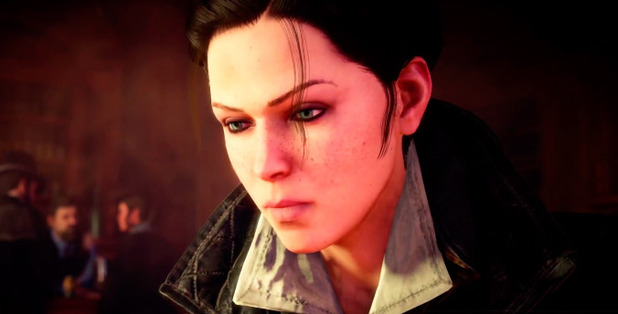 Following a bout of justified complaints in 2014 after the release of Assassin's Creed Unity revealed female playable characters were left out because it would have caused "a lot of extra production work," Assassin's Creed Syndicate will have a female as one of its two main protagonists. While Evie Frye won't be the first female protagonist the series has ever had (Assassin's Creed Liberation's Aveline de Grandpré), it's yet to be seen whether Evie will receive equal screen time to her brother, or if she was a last-minute addition after Unity's lackluster reception. If her recent trailer is any indication, here's hoping it's the former.
Lara Croft
Many claim that Lara Croft now "has her spot in the fall" after Nathan Drake moved into 2016, but let's face it; Lara wasn't going to let any man stop her anyway. She can fight, climb, explore, and traverse a mountain of natural disasters better than most people from any gender, and this fall seems to be no exception if Rise of the Tomb Raider is any indication. Lara even stood out as a strong female during the Microsoft E3 press conference that was otherwise filled with Master chief, Marcus Fenix, and Phil Spencer.
The Women's National Teams
While you may be offended that it took EA this long to add playable women to the FIFA franchise, you may be happy to discover the developer waited until its technology was "able to create the female physique properly than create character models that simply carried female faces." Whether this is just an excuse or not is up to you, but the fact that FIFA has added females to its character roster while Madden has gone as far as "adding women to their crowds" and then saying they did it so that "FIFA wouldn't steal all the thunder" proves which game is giving females a better rap.
Faith in Mirror's Edge Catalyst
What sells? The box art that contains a man walking away from you into the distance carrying a gun with a somewhat empathetic look on his face. That's what makes the next iteration in the Mirror's Edge series so wonderful – it's a game that didn't sell the most copies in the world, but EA has allowed the underrated game to continue on. It received its moment during the company's E3 press conference with Faith front as center as its protagonist.
Aloy from Horizon Zero Dawn
Horizon: Zero Dawn had a lot of interesting things going for it during its reveal: a world begging to be explored and discovered, past and future components intertwined, and, of course, robot dinosaurs. But one of the best parts was the fierce and compelling female protagonist, Aloy. Even better was the fact that Guerrilla Games didn't feel the need to shove it in our faces that they had created a female protagonist for a new IP. Sony developers were initially worried about the inclusion of a female character, but broad appeal and diversity ultimately won over a safe choice in this case. "As an industry, I think we should continue to make efforts to have more females in studios on the development side and to get different perspectives," Shuhei Yoshida said.