Immersing yourself in the ultimate gaming session means getting the set-up just right. Let's face it, you're going to be there a while if everything goes to plan. However, there's nothing more annoying than turning to pick up a drink mid-battle in Fortnite only to realize that the wire on your headset simply won't stretch. This is why wireless gaming headsets have become so popular.
Think about the wired issue. One step too far and your headset wire will bring your console crashing to the ground. Gamers are having to choose between chugging a liquid refreshment and carrying on playing isn't a great situation. It's an unfair situation.
If you're tearing up the enemy in Call of Duty, your teammates are going to be pretty cross if you randomly disappear.
Being tethered to your console is less than ideal. We've likely all nearly yanked the headset out of the socket by accident, right? Possibly, you spent ages silently cursing as you untangle a knot of cables. Even if you're blessed with a long, knot-free wire on your headset, life still isn't simple.
Standing up and moving around requires carefully planned choreography to avoid decapitating yourself with the cable.
Wireless gaming headsets provide the answer. This is why the popularity is so high. They deliver proper quality and make you feel like you're part of the game. Offering the perfect combination of flexibility and function, wireless gaming headsets are perfect for both hardcore and casual gamers alike.
Are wireless gaming headsets better than wired ones?
The ability to get up and move around is the most obvious advantage and you'll certainly appreciate not having wires dangling around.  There's an unbridled joy about going wireless. You have the freedom to stand, move, and stretch without the fear of the damage your cable might do.
Go ahead, stretch your legs halfway through a session or walk across the room, controller in hand, with a wireless gaming headset you can do that.
Comfort was key for designers when wireless gaming headsets are being put together. They need to stay in position without gripping your head like a vice. Clearly designed for long sessions, lots of thought and planning goes into avoiding pressure points which could get sore.
If you want to slam the bad guys in a first-person shooter such as Battlefield or Call of Duty, you'll need to know where your enemy is hiding. Ears need to be on high alert to narrow down their location. With a traditional headset, this isn't as easy as it sounds because there's only very limited directional audio.
Harnessing the best of what technology has to offer, wireless gaming headsets deliver surround sound. Like even wired types, they offer quality audio in deeper formats. With these noise-canceling issues gone, concentration can be present.
This will help you play better and enhance your gaming experience.
To top it off, clunky mics are a nightmare to play around with and can interfere with your peripherals too. Wireless gaming headsets rely on top-level technology, so you're also getting a quality mic. It's also not going to get in the way of your gaming experience.
What Are Things to Consider When Buying Wireless Gaming Headsets?
There are a huge variety of gaming headsets on the market. If you're new to buying wireless gaming headsets, you might not realize that this isn't like the old days when you just hooked up a pair of earbuds to your Sony Walkman. Every headset will not work across every platform, so the first thing you'll need to check out is the platform compatibility.
It's a different beast here, which is why finding the right platform headphones are crucial to your purchase.
The style of wireless gaming headsets people enjoy is a personal choice. That said, it's up to you what kind of look you want to rock. However, performance is a very different matter as no one wants to end up with bad audio quality.
Gamers truly want to find wireless gaming headsets that offer noise-canceling and proper surround sound within the set. This type of directional feedback will make the game come alive. A pair of footsteps behind you in the game will have you looking over your shoulder. That said, the effects can be incredibly realistic with the right pair.
If you have a partner who doesn't game, no doubt the length of time you spend playing has been pointed out to you. Likely on several occasions. However, this raises a good point to think over. If you enjoy an all-night session in front of your console, you'll need to consider wireless gaming headsets that feel good on your head and ears.
However, you'll also need one that blocks out the noise of the game from those wishing to sleep.
Are Wireless Gaming Headsets Easy to Set Up?
If you're itching to get stuck in with your shiny new headset, all that's left is to get everything set up. Unfortunately, you won't find them as simple as plug and play. That means you need to leave yourself a little bit of time to install the kit.
It's not unreasonable to expect that everything you need should come straight out of the box, and it's not unusual to have to update the software before you get started. Remember, these aren't just a flimsy pair of headphones and many boast some serious tech that needs to be configured properly for best results.
Don't be tempted to skip this part and do it on another day. Trust us, you'll never get around to it and the quality of any wireless gaming headsets will suffer. You do not want to pay a good bit of money only for it not to work because you didn't set something up right.
Once you've checked for any patches or updates, you'll need to plug your headset in. There might not be any wires but you'll typically have a USB connector. If you're trying to pair your Bluetooth gaming headset with an Xbox One, you might need to invest in a special adapter.
Some do not yet have the full technology integrated. It's easier with a Playstation or a PC and pairing the devices takes little more than a couple of clicks.
If you follow the instructions it's not difficult to pair the devices, regardless of the gaming platform you prefer.
Best Wireless Gaming Headsets
1. Corsair Void Pro RGB Wireless Gaming Headset
If you're looking for good wireless gaming headsets, the Corsair Void Pro RGB Wireless Gaming Headset is worth a look. With memory phone ear cups and microfibre mesh, this headset is comfortable to wear even for longer sessions. You won't end up with the dreaded "Sweaty Ears," something gamers surely will enjoy.
The audio is geared specifically towards gamers with the EQ presets. These are designed to elicit every small sound out of your play. Get ready to notice even tiny bullets whistling past your ear in simulated 7.1 surround sound. It's not among the most expensive wireless gaming headsets on the market either.
This shows somewhat with the plasticky exterior.
Nevertheless, the interior is robust and well-liked by users. There's even a funky little gizmo that lets you change the color of the glowing logo on the side of each ear. We give extra points here, because who doesn't appreciate a pointless yet pleasing gadget?
A cool part of these wireless gaming headsets is that you can lift the mic up or down to switch it automatically on or off. This is a nifty control and it's simple to use. The recording quality is pretty good too and would work for live streaming broadcasts.
PROS
Great budget purchase offering good quality for the price
Useful auto mic on/off function
Excellent sound quality with noise-canceling mic
Comfortable even for extended wear
CONS
The mic can be temperamental and won't always switch on
Volume switch can be a little fiddly
Plastic exterior looks somewhat cheaper than others on the list
BUY ON AMAZON
2. SteelSeries Arctis 7 Lag-Free Headset With DTS Headphone
Marketed to be among the premium wireless gaming headsets on the market for either a PC or console, there's an impressive look to them. Introduce yourself to a silky smooth fabric that feels so good it's almost cosmic.
The self-adjusting headband fits snug, but larger headed individuals might find it on the tight side. The design is sturdy and holds well regardless of head size. A USB port plug-in helps power the headset. It has a strong signal, allowing to enter other rooms with crystal clear reception.
Unfortunately, the wireless system does not work for every console, as the description may imply. Features like the different audio control streams and the DTS surround sound only work when you're on a PC. However, when you are on a PC the quality of the audio is mind-blowing.
It offers just the right amount of bass tones to provide full depth.
The recording on the mic delivers incredible quality and communication with noise-canceling technology. However, this set has a sensitive mic. That means it's so sensitive it'll pick up your breathing loudly if you're too close.
This will drive everyone else crazy for sure! If you want to avoid this, just adjust the mic appropriately and turn down the volume when needed.
PROS
Stunning audio quality
Separate audio controls for game volume and chat
Individual settings can be saved
Strong signal and large distribution zone
Long battery life
CONS
Not the most comfortable fit for larger heads
Must be used with a wire for Xbox or Switch
Slightly misleading strapline as not all features work on consoles
BUY ON AMAZON
3. Turtle Beach Ear Force Stealth 450 Headset with DTS Headphone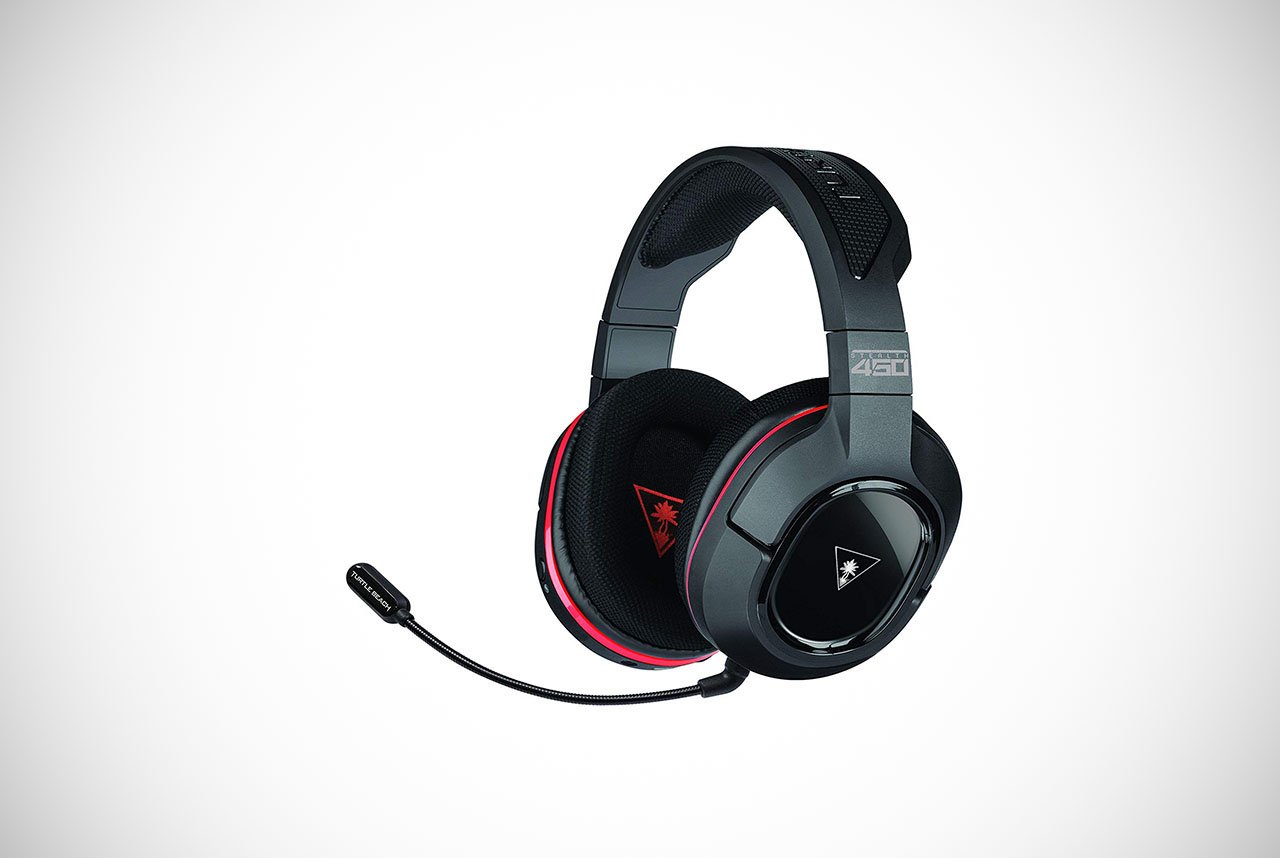 Other Turtle Beach wireless gaming headsets have not been top tier in style, so it's nice to see one that offers killer looks. You'd be forgiven for thinking that this headset is for lifestyle rather than gaming.
Yet the subtle flash of red is the hint that these are designed for play.
This model offers surprisingly sturdy black plastic components, with controls that can be easily used. The construction is basic likely due to the low price tag. However, it's made incredibly well despite this.
If you've ever wondered how Superman would fare with a game controller in his hand, you'll now find out. They have dubbed a portion of their sound "Superhuman Hearing." Switch it on and you'll feel like a DC Entertainment wannabe superhero, as every tiny noise is amplified in crystal clear sound.
You can always disable the feature and play with the regular audio set-up.
The "Superman Hearing" is perfect for the first-person shooter games. Perhaps when you want to go murder your friends, in online play, of course, this will be a tremendous headset to have around. The sound quality is amazing regardless of the mode you pick.
There's zero distortion even at high levels. However, higher volume leads to noise spilling out. Sadly, only the PC will let you use all of this model's features. Consoles get some, but not all of them.
PROS
Good performance for a low price
Excellent audio controls
Superhuman Hearing mode for serious gaming
CONS
Doesn't offer complete range of compatibility with a Mac
Lots of noise leakage makes it disruptive for those around you
4. VersionTECH G2000 Stereo Gaming Headset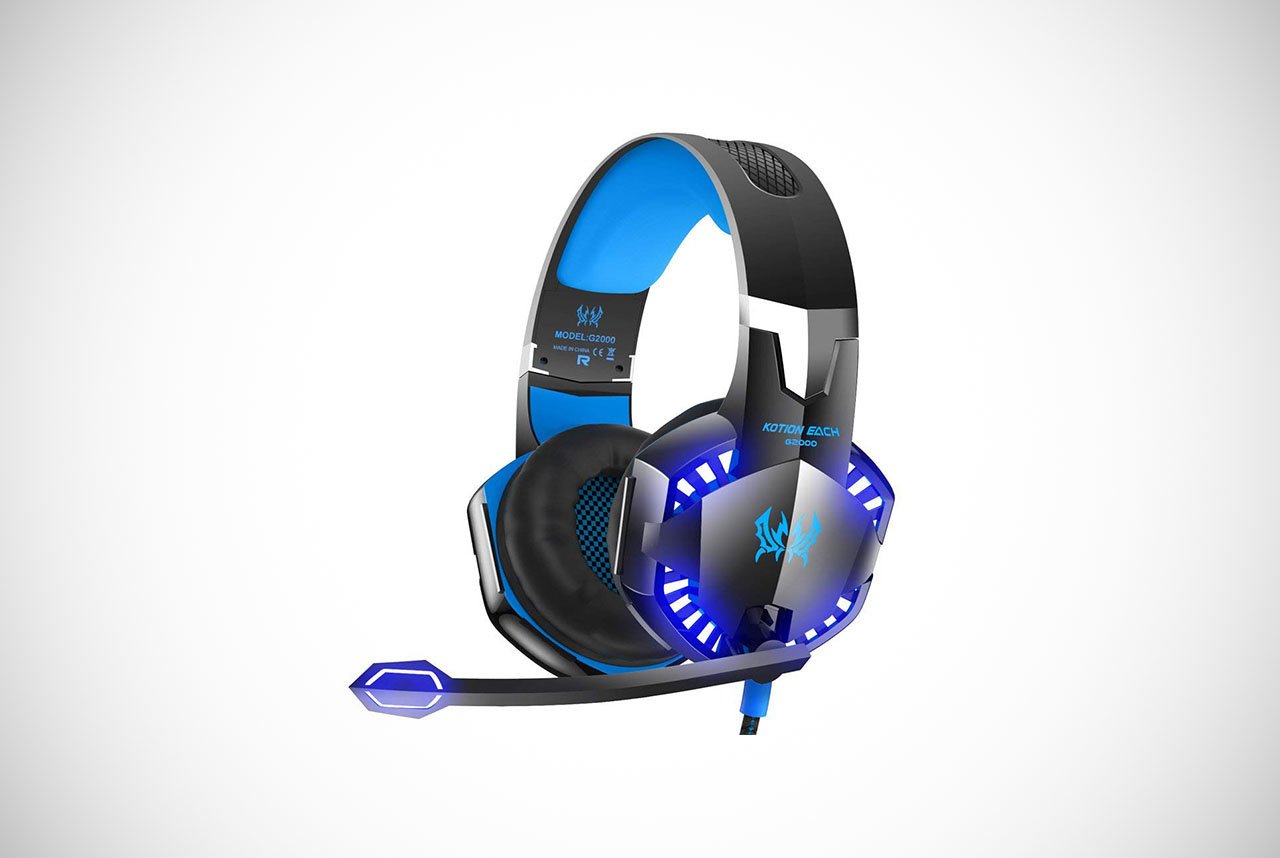 You'll likely notice this headset is not truly wireless, as it plugs into the controller on the PS4 and Xbox One. Yet it does still offer some portability. Though it does have a cable, the mobility is present like normal wireless gaming headsets.
The price on this headset is a fraction of many of the others on this list, as it doesn't offer the same degree of wireless play. However, if you're looking for a decent wireless gaming headset that you can afford on a budget, these are a top pick.
A common complaint from users is that the LED light system needs to be separately charged. While a possible design flaw, it's not a massive complaint on its actual job being done…being a proper headset. The size of the headset is versatile, offering a comfortable fit even for smaller and bigger heads alike.
Sweat-reducing technology makes the ergonomically designed leatherette and mesh-designed ear cushions comfortable. Perfect for long nights gaming.
An advantage of this headset is that it can work with the PS4, Xbox One, or a PC. Although, on the latter, you'll be completely stuck at the desktop with no room to move about. Either way, you'll find a sound quality that well-liked by users.
Noise-cancelling technology in both the earpieces and the microphone is a major plus too.
PROS
Excellent price
Versatile for different consoles
Noise- canceling technology enhances performance
Retractable headband makes it suitable for younger gamers too
CONS
Not a true wireless design
Short cables make it difficult to charge and play simultaneously
Sound quality isn't the best on the market
5. Logitech G933 Artemis Spectrum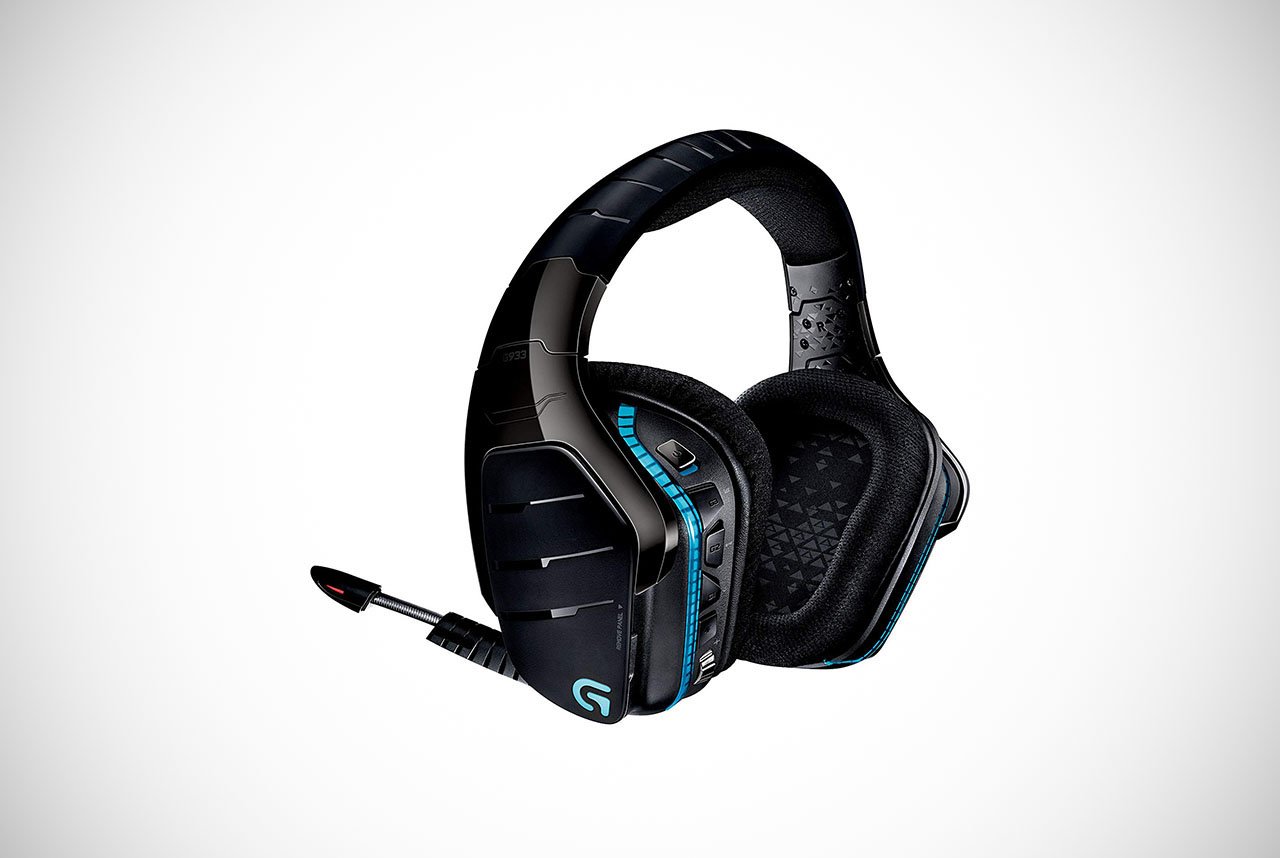 Logitech has opted for a chunkier design with this headset, so if you're looking for discreet, these bad boys probably aren't for you. Gripping quite firmly against the head, they're comfortable. However, others may not like the tight fit.
The plastic finish doesn't look particularly high-end. Interestingly, the ear cups are finished with good quality fabric rather than the sweat-inducing fake leather.
The controls can be found on the headset, however, they can be an issue for people with larger fingers. They can also take some time to fix up just right, yet the different shape for each button helps you find your way. By contrast, the volume wheel is easy to use.
Although, it's also prone to being accidentally whacked.
If you're moving around, you'll need to take care as you could suddenly be deafened as the sound cranks up to the max if you're not careful. There's the option to switch to wired operation by plugging the headset into a 3.5mm jack, which is a nice extra.
The mic folds out from the left side and has plenty of maneuverability. Despite the small size, it produces excellent results. This headset offers rich surround sound, but you will not be able to use it unless you're on the PC.
It's fully compatible with the PS4, but you'll only get basic stereo sound on the console. Still, this sounds great!
PROS
Boom mic tucks away for convenient storage
Versatile for use on different platforms
Excellent mic quality
CONS
Bulky and heavier than other wireless headsets
Shorter battery life
Only PC users get the full surround sound experience
6. Logitech G533 Wireless Gaming Headset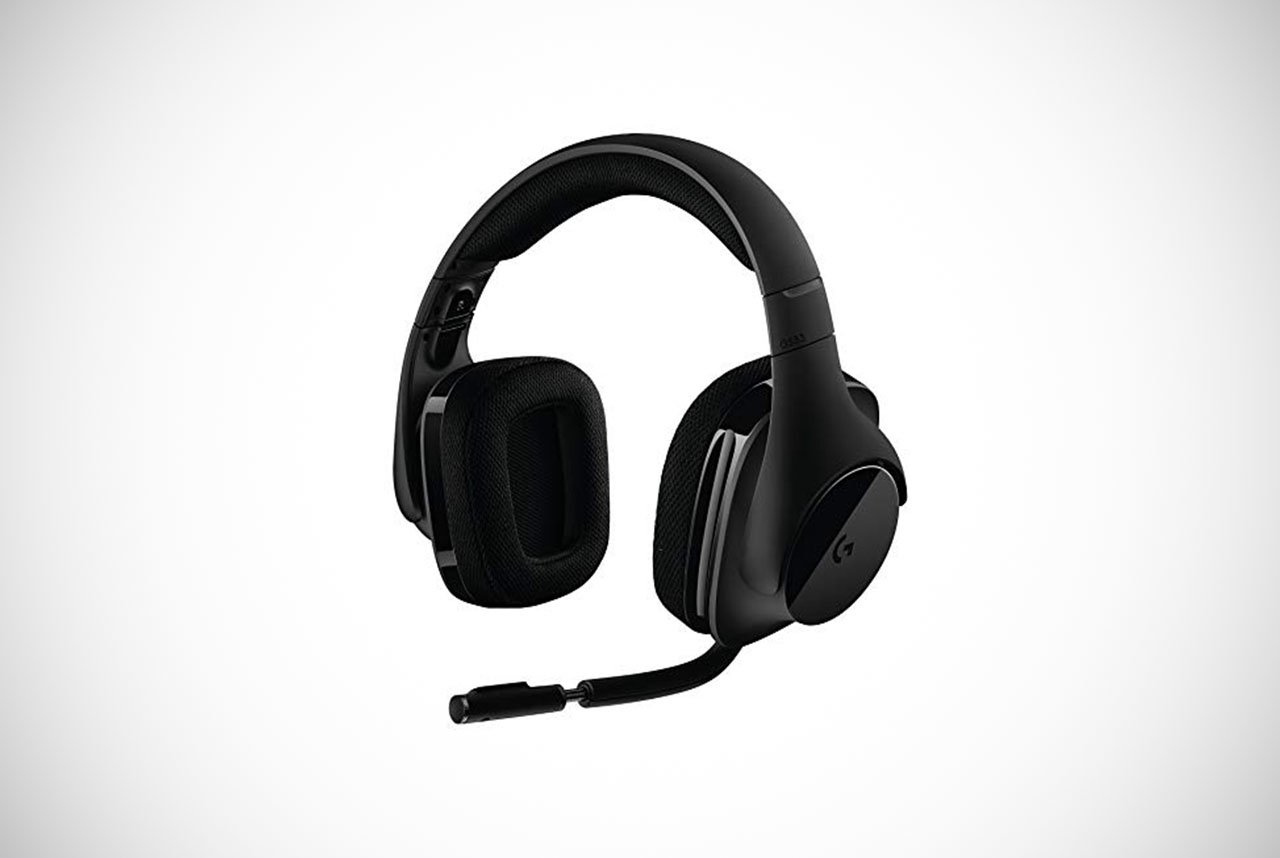 This medium sized headset is sleek and subtle, finished in jet black for a stylish look. It's incredibly lightweight and offers a relatively comfortable fit. Well-padded fabric ear cushions allow heat to escape and minimize sweating while the band can be easily extended.
Users need to be careful in the length of time they wear these wireless gaming headsets, however. As they could become uncomfortable if worn too long.
The surround sound does an excellent job during gaming, with each attack and move carrying a satisfying weight. With a wide soundstage and zero distortion, the audio has excellent clarity and really adds to the gaming experience. The mic is good too, providing clear enough sound for talking.
However, if you're thinking of streaming you'd probably struggle with the quality. Mostly due to the sound being made for the game, not speaking online.
All of the controls are on the left ear cup, towards the rear. Despite the slightly unusual positioning it won't take long to master the controls fully. The biggest negative for this headset is that it costs a bit more than others on the list, despite missing some features others might have.
PROS
Standout audio quality for gaming
Lightweight yet strong
Impressive battery life
CONS
Hefty price tag
Not comfortable for long periods
7. Corsair HS70 Wireless Gaming Headset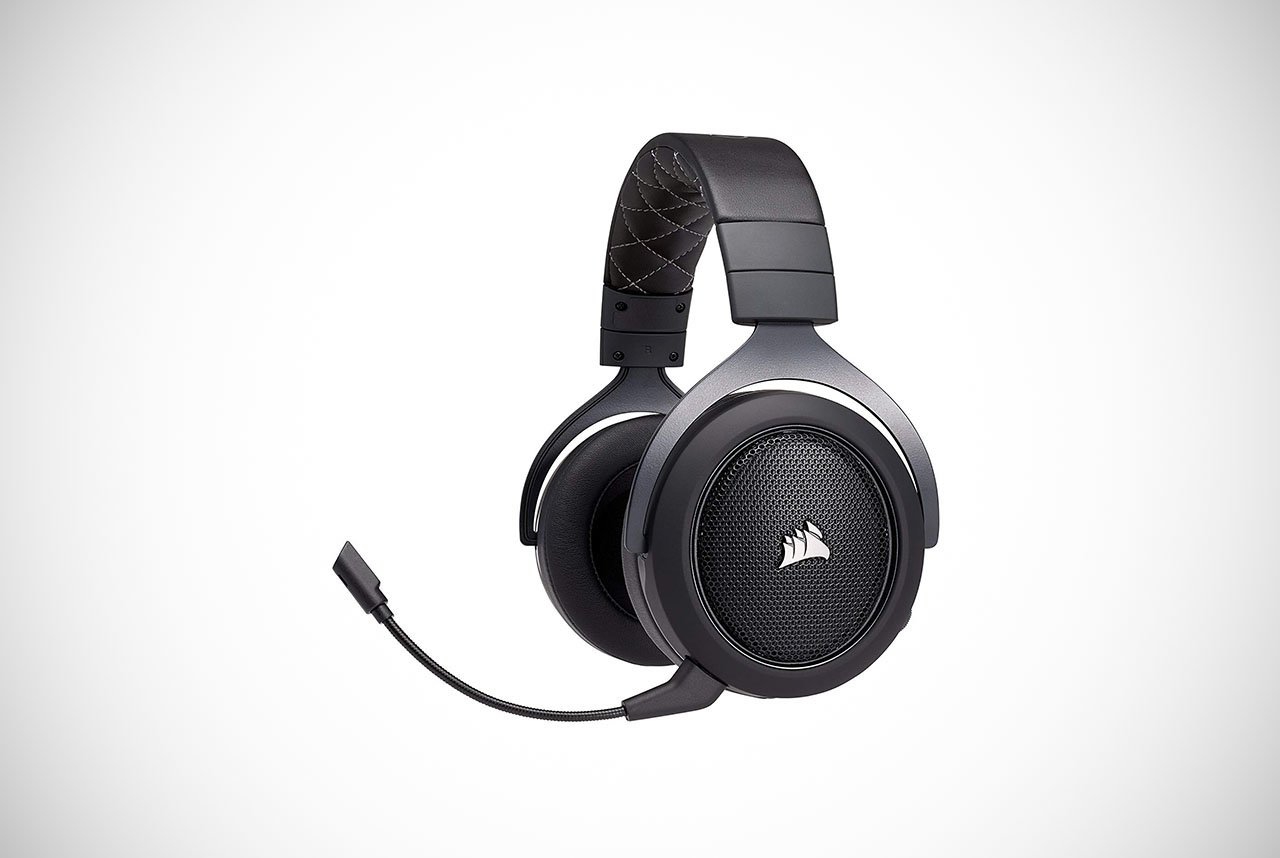 Coming in at a middle-ground price, these wireless gaming headsets by Corsair is pretty good. Simple and effective, it delivers exactly what it promises. The basic design is subtle and stealthy. While not flashy and sort of minimal, this is still really well-liked by many gamers who do not like the over the top designs.
The ear pads are extremely well-cushioned, softly sliding around your ears with a resounding plumpness. The faux leather used is high-quality and feels silken. It's not slippy, so you'll stay feeling comfortable for as long as you play. The only slight snag is that it's not easy to replace the ear pads.
It takes some real strength to get them out. Corsair doesn't provide any spares either, so when it's time to make a change, you'll need to get in touch with them to order another set.
The headset has a battery life of 16 hours and a good wireless range. The microphone is removable when not in use, a beloved design feature that gamers truly enjoy. The audio is exemplary and delivers a satisfying range of sounds. Just check out games like God of War 4 to hear just how great it is.
The surround sound isn't perfect but adds another dimension. Unfortunately, only PC users have the benefit of this option. A good quality mic and easy to use ear cup control rounds off this headset, making it hard to fault in many ways.
PROS
Top quality audio across all games
Comfortable for long sessions
Excellent mic
CONS
Only PC users get surround sound
Ear cushions are difficult to replace
Design is basic
8. Razer Man O'War 7.1 (Wireless)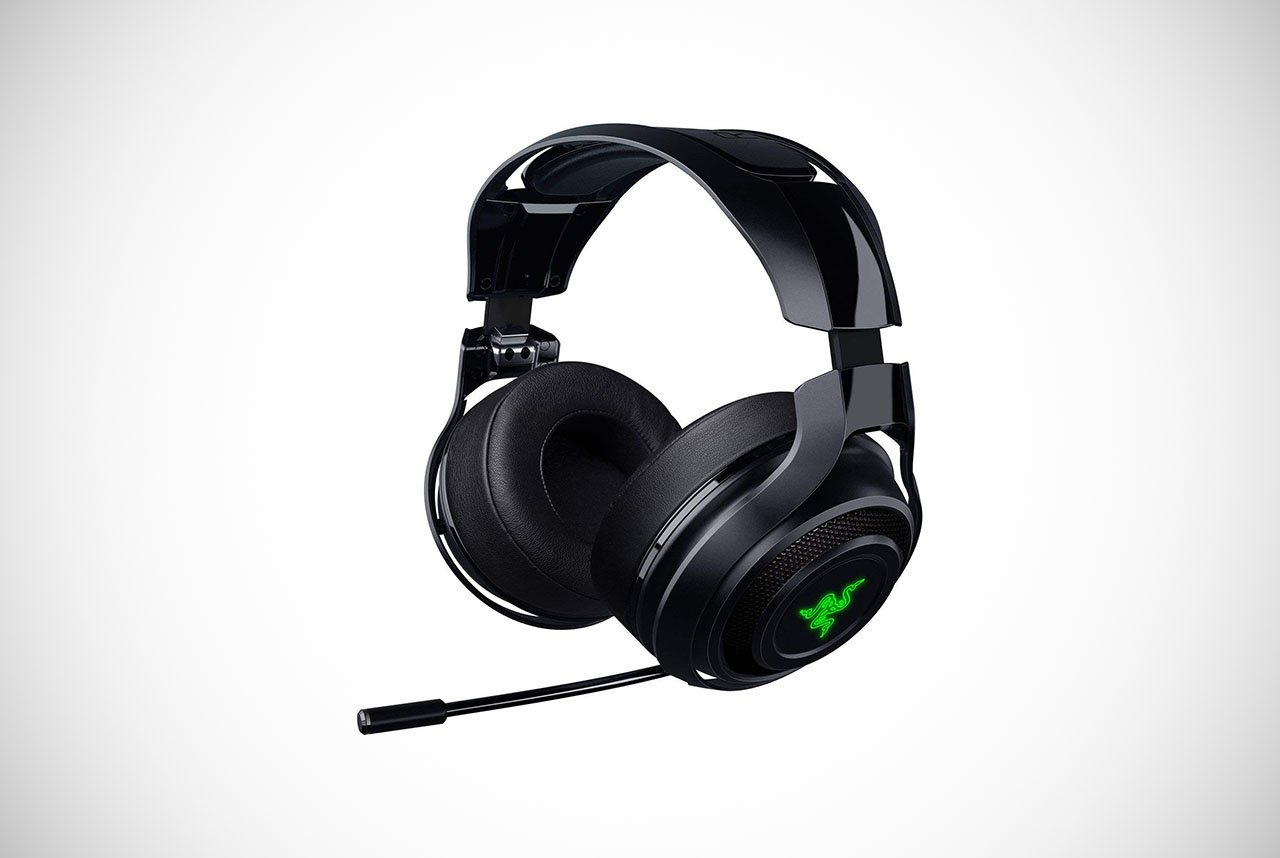 The Man O'War is Razer's first foray into the world of wireless gaming headsets. They've gone all out with this model, however, it's a bit pricey. With the style to prove it, this model is designed for gaming and compatible for PC and PS4. This is tremendous for those who want both available options.
This headset is likely to appeal to most with its jet black design accented by the glowing Razer logo and multicolored RGB lighting.
Each rounded ear cup has a good amount of padding with a closed back design. The band is extendable with a fit that's snug but not too tight. One issue it has is that it can feel a bit plastic, which is unexpected for the price asked.
The signal range is one of the strongest among the wireless gaming headsets on the market. This allows you to go from room to room without a major signal loss. The audio is supported by the innovative Razer Synapse software, allowing for customizable sound options.
You can also switch on the 7.1 surround sound for a richness to the audio. However, this option is only available on PC.
The microphone is flexible and easy use while delivering speaking volume that is clear and loud. Though at times there can be some static noise between headset and mic. During play, it's covered up by the sounds of the game but shows up in quieter periods. This may make you wonder if it's overpriced.
PROS
Beautiful design
Comfortable for extended play
Excellent signal strength and range
CONS
Cheap looking design
Static interference with audio
9. HyperX Cloud Flight Wireless Gaming Headset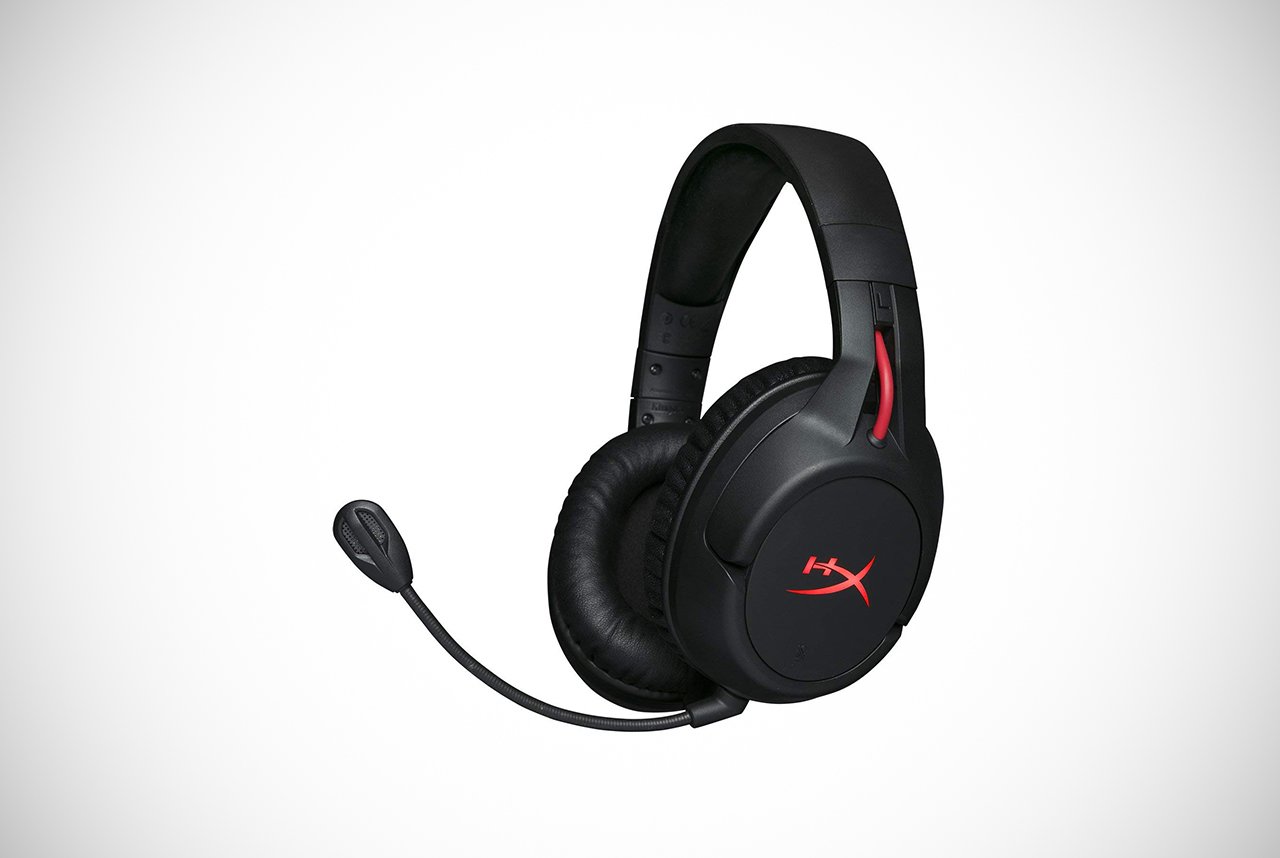 The HyperX Cloud Flight is the first foray into the wireless gaming headset market for this manufacturer. While it is a pricey model, this headset looks fairly modest. However, it is packing away some pretty handy assets. The design is unassuming with just a touch of red LEDs but otherwise made from black plastic.
With its hefty price tag, it's weird to see a design that looks simplistic.
It performs incredibly well. It even has the option of working with Xbox One via cable or play on PC or the PS4 wirelessly. Both the headband and the ear pads are beautifully cushioned with memory foam to make it super comfortable, no matter how long you have it on.
This is handy because one of the main selling points for this headset is the fact that its battery life is a whopping 30 hours.
The controls are intuitive and easy to use, but although there's a mute there's no separate button for the volume on the chat and game separately. It's not essential for a deluxe headset, but it would have been a nice inclusion. Possibly the biggest drawback is the lack of surround sound.
The audio isn't bad at all, but it could be better. Without directional input, gameplay is undoubtedly trickier than with other headsets.
The mic stands out as high quality, delivering crystal clear voice audio even in the midst of a chaotic battle. When it's time to call your teammates to account, this headset will make sure your voice is heard.
PROS
Excellent mic and chat quality
Solid all round performance
Versatile compatibility
CONS
No surround sound
Cheap design and no padded case
10. Turtle Beach Stealth 600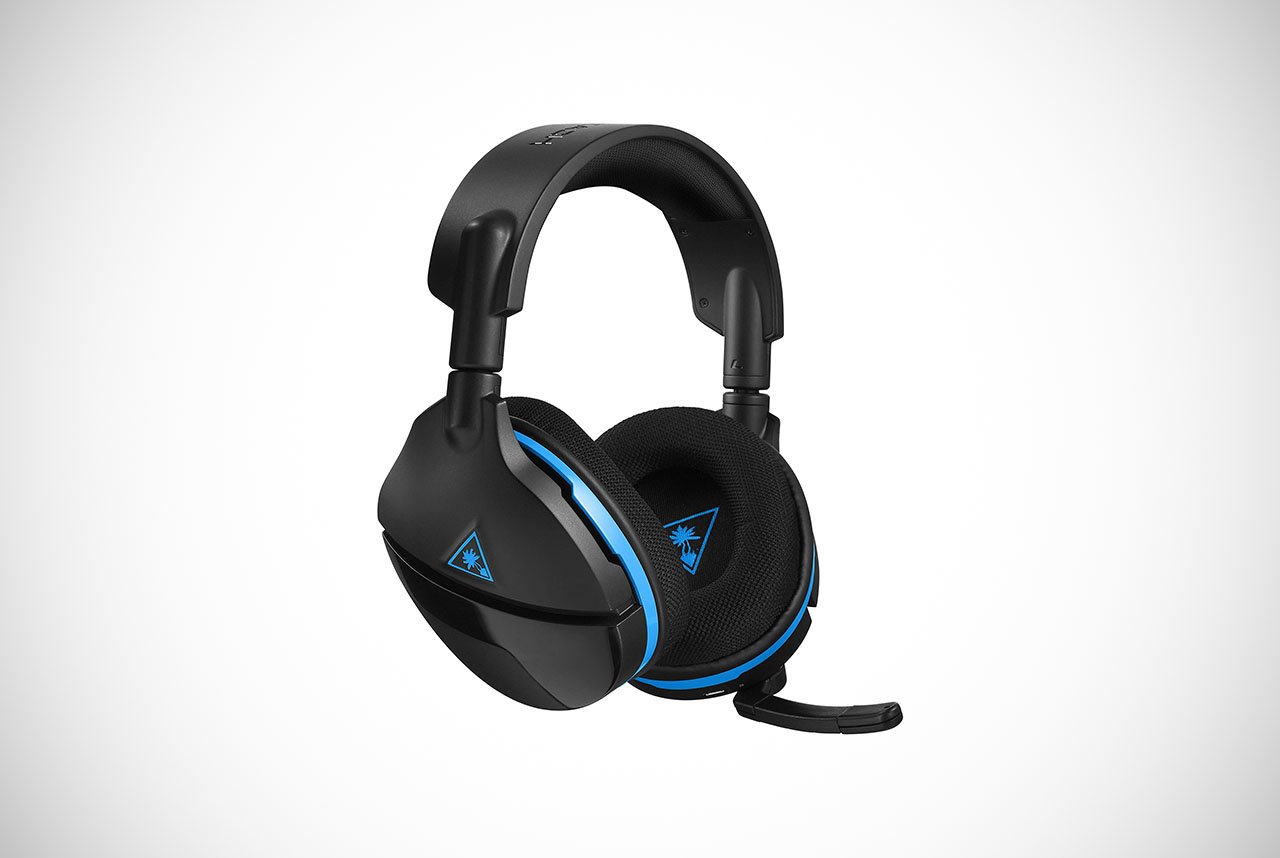 Coming in at the mid-range price point, this is another interesting model from industry big boys, Turtle Beach. The Stealth 600 is clearly made for gaming. It's chunky and uncompromising with bold blue accents on the cups.
Unfortunately, it doesn't feel any better than it looks and a lack of real contouring in the design means that there's no way for it to drop into that sweet spot. As a result, you'll probably spend the whole time fiddling with the headset trying to find a comfortable position around your ears.
Remember the Superhuman Hearing on the previous Turtle Beach headset? It's back again here, elevating the audio to a supreme level. The audio is truly phenomenal in performance, offering exquisite clarity. This means every punch, every gunshot, and every jump comes to life. It provides a depth to your gaming like never before.
The flip-up-flip-down mic has a handy auto-mute facility and a good performance. However, there can be some echo with this.
PROS
Excellent surround sound
Good battery life
CONS
Cheap looking design
Not the most comfortable headset you'll ever wear
11. Logitech Wireless Gaming Headset G930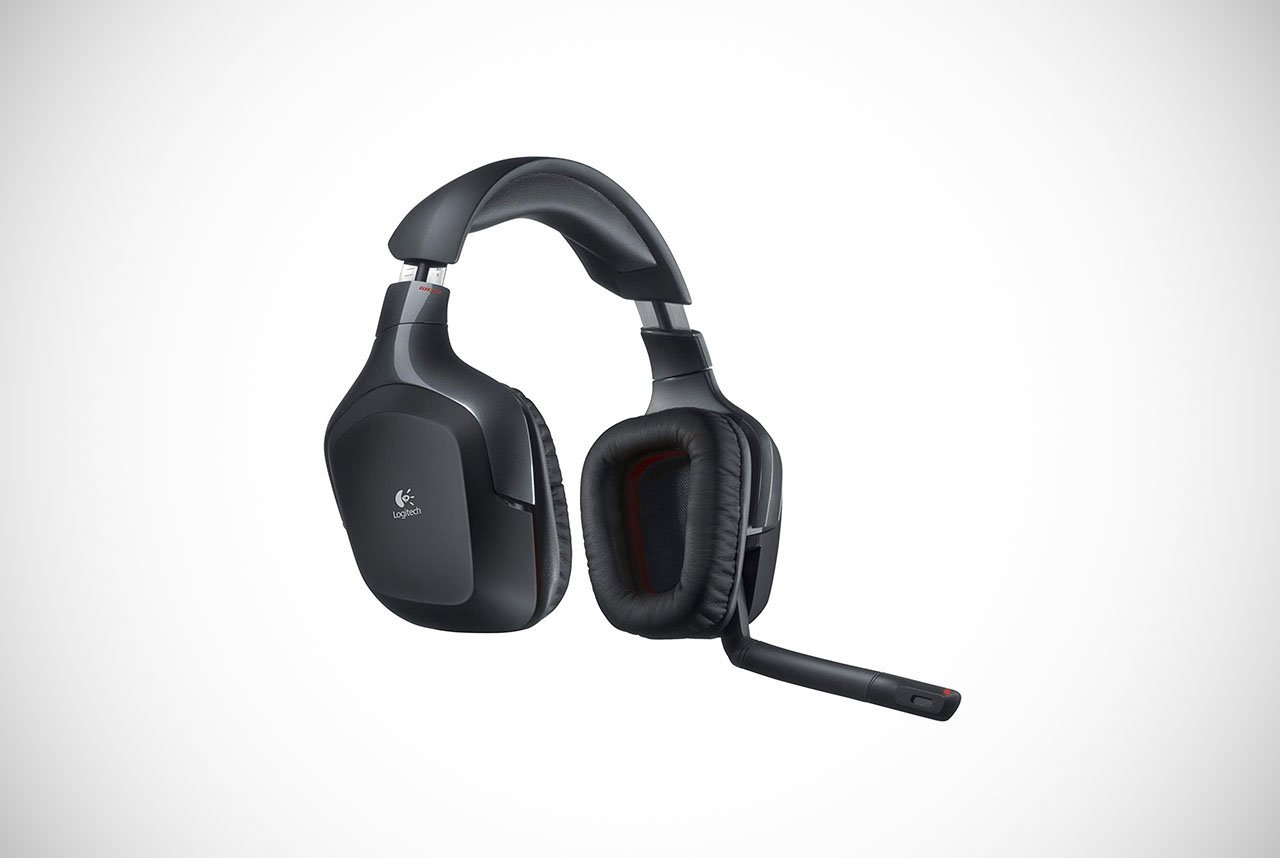 Among the cheaper wireless gaming headsets, Logitech has managed to yet again put out a nice set of headphones. This made it an immediate contender for inclusion. An all-black unit with accents of red, it's unmistakably a headset designed for gaming but it's not obtrusive or bulky.
A slim silhouette makes them comfortable to wear on your ears without feeling as if you've stuck your head into a bowl.
The battery life isn't the best you'll find with no more than 8-10 hours per charge. However, the audio quality is where this headset stands out. This includes a flawless 7.1 surround sound system that takes you on an adventure through your game.
This immerses you into the action perfectly, and you'll almost feel every blow as you experience directional audio first-hand.
The software offers great customization options, as well as assigning special functions to each button. This isn't a headset for a beginner that simply wants to plug and play. To truly enjoy everything it has to offer, you'll need to spend a bit of time getting to know each other.
PROS
7.1 surround sound giving excellent audio
Easy to use headset controls
CONS
Shorter battery life
Not ideal for novices
12. Mpow Bluetooth Headphones Over Ear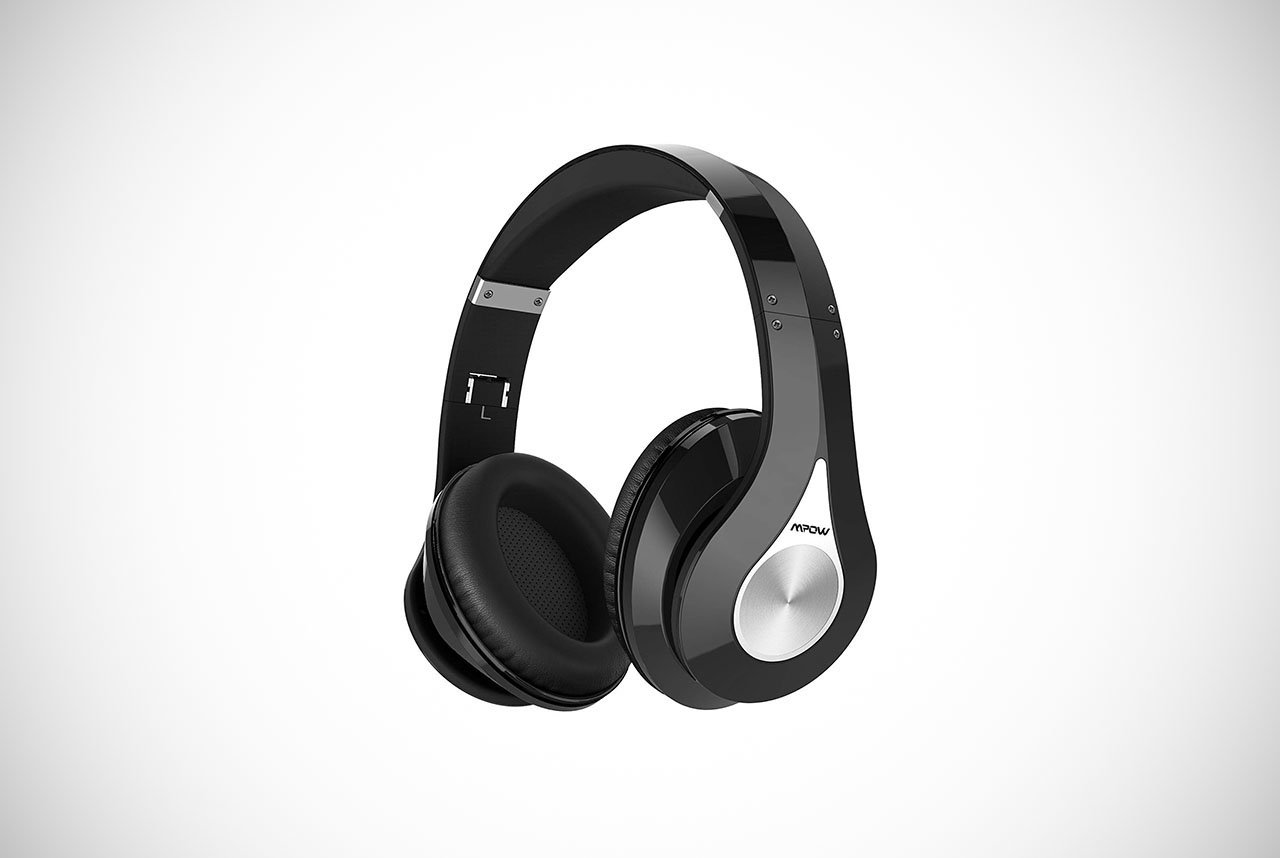 The Mpow Bluetooth headset blows most of the others out of the water on price, offering up a true wireless option for just a fraction of the cost. Slipping the Bluetooth PC gaming headset on, you'll find it hard to believe that they're vastly cheaper.
Every element that touches your body is soft, comfortable, and made from good quality materials.
The hard plastic outer holds up well being transported around while the ear cups cling in position. This is in play even when you move your head around. Although, try not to randomly throw your head around too much. You don't want to look crazy, of course.
The audio quality doesn't really compare with some of the big hitters, but what do you expect for the price? It does a good job, but it can offer a fairly bass-heavy sound. The mic works well too. You'll need to speak up a little compared to other models, but it's still not bad compared to others.
PROS
Great price for a wireless option
Comfortable to wear
CONS
Audio quality is a little basic
13. HyperX Cloud II Gaming Headset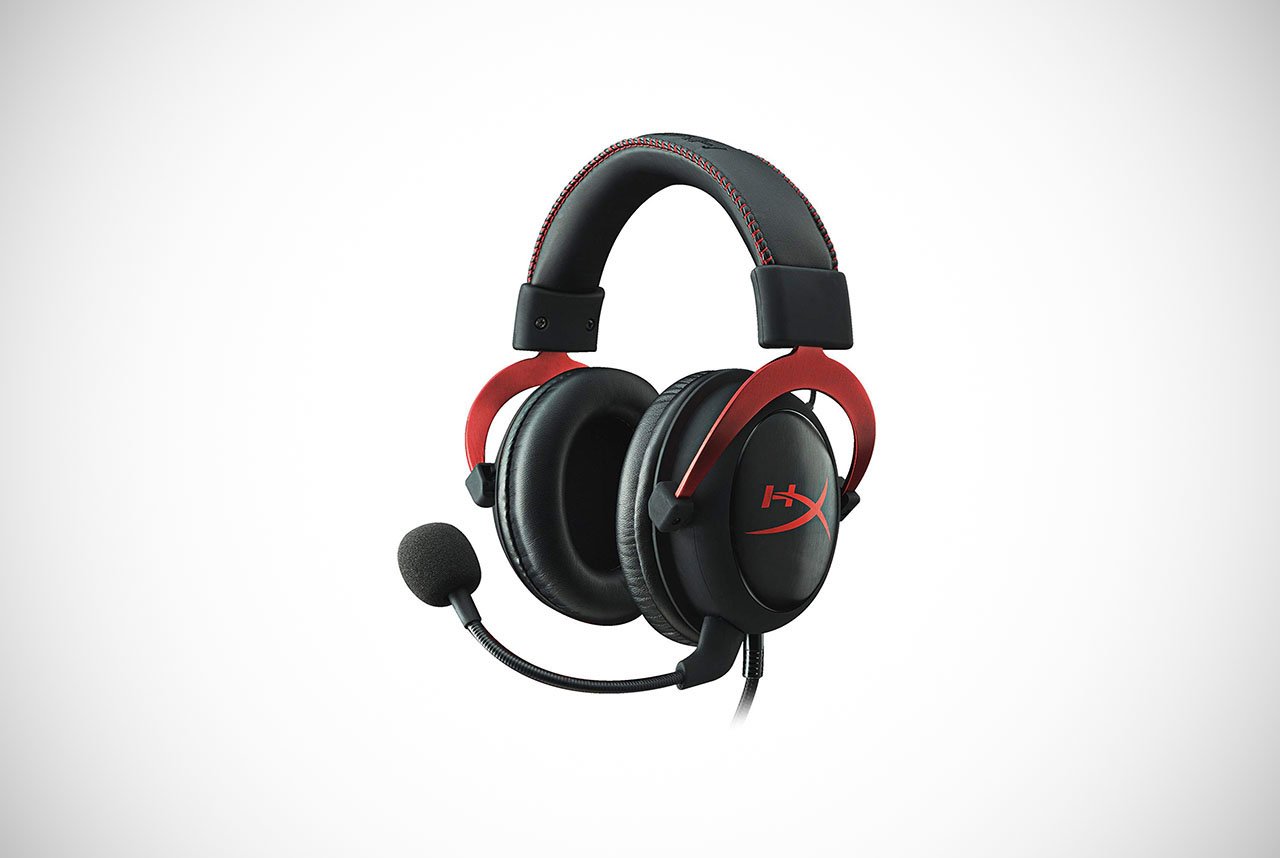 These stylish red and black headphones are another set that doesn't really sit well with the wireless label. Although they simply plug into the controller, you're still tied up and not free to wander from room to room (should you feel the urge to do so.)
However, sacrificing a little bit of freedom isn't the worst thing in the world if the headsets deliver in other areas. So, does it? This gaming headset is compatible with all the major platforms, making it a top choice if you want to play on different channels. On top of the basics, you'll find some thoughtful extras included.
This involves replacement ear cushions, an adaptor for the airplane travel, and a carry case.
The audio is truly magnificent. Without the need to deal with unwanted static, it's hard to think of a set of headphones that works just as well. There's plenty of oomph at the lower end with clarity that carries all the way through to the opposite end of the spectrum.
The surround sound is only available when you're playing on a PC but even the stereo output is impressive. The only real downside is there is no active noise cancellation so if you're in surroundings. That said, distractions could be in play.
Lastly, the mic is good for talking during gaming but if you're thinking of streaming audio you'll need a headset which offers a bit more quality.
PROS
7.1 surround sound
Luxury extras thrown in for free
CONS
Not really a wireless headset
Cable won't detach
Sub-par carrying case
Let The Gaming Commence!
Choosing from the wide array of wireless gaming headsets can be difficult, we know. It often depends on the platform you intend on using, as well as the priorities that are important for you. Balancing up battery life against audio quality could leave you running round in circles. As any gamer will tell you this isn't much help at all.
Gamers will need to decide on their budget and the platform, then browse through the options that are available to them. All of these headsets offer some real benefits, giving you even more reasons to hook yourself up for a long, comfortable session of gaming right about now.
Best 13 Wireless Gaming Headsets